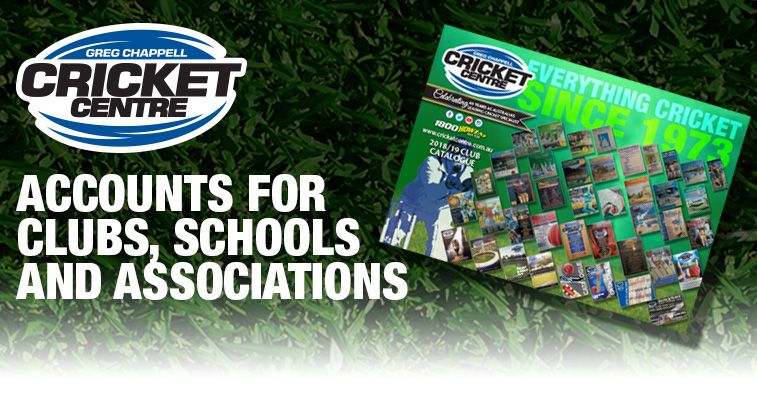 Greg Chappell Cricket Centre: Club Accounts
General:
What is a Club Account?
A Club Account is an exclusive deal offered to Clubs, Schools & Associations. This account grants you access to the very best prices on gear necessity's such as balls, stumps, training equipment & much, much more! These deals can be obtained by shopping instore, purchasing online or giving us a call!
What are the benefits?
Cheapest Prices available on selected gear
Free to Sign-Up & No additional fees
30 Day Trading Terms from Date of Invoice
3 Authorized Members will have access to order/collect gear on behalf of your team.
How do I take advantage of a Club Account?
Fill out an "Account Application Form"
Be an authorized member of your Club (Committee, Secretary, President, Coach etc)
Ensure your club have a specified club email address (no personal email addresses)
Complete the attached Club Application Form & return as per instructions on document
Once completed & accepted, you'll receive an email from us confirming your Account creation, followed by an email from our Web Team with your Online Login Details to make your future purchases easy!
Your club will now have access to exclusive EDM's & GCCC's best pricing on gear!
Signing In As A Club:
How Do I Get My Login and Password?
A Login has been sent to your club, school or association by the GCCC. You can use this login and purchase as a GCCC registered account on www.cricketcentre.com.au. If you didn't receive an email to your clubs account, it's likely that your clubs email address is already being used for an normal (individual) www.cricketcentre.com.au login. Since one email address cannot be used for two accounts we will need you to supply a new email address for your clubs login or edit the Individual account that uses your clubs email. If you're having issues or are starting a new club from scratch, you can always call 1800 HOWZAT (469 928) and follow the prompts to speak to one of our friendly staff. Alternatively, you can email us on enquire@cricketcentre.com.au
Finding your login: Search "Cricket Centre - Your account has been created" in your email application making sure to check your inbox and spam folder.
Please note: Clubs, Schools & Associations must use a generic email address (eg gregcricketclub@...) as their mail login. This makes for a much easier transfer in the event of staff changes. Many clubs use gmail.com accounts to great effect.
What Happens When I Login?
As soon as you login as your Club, School or Association our website will immediately change colour and pricing will be adjusted to show the great savings we offer to our Club, School & Association customers.
How Do I Pay?
Simply purchase on credit card, or, for Clubs, Schools and Associations that have an authorised account with The Greg Chappell Cricket Centre you now have the ability to be invoiced via the website with your usual credit terms. The option to be invoiced appears for authorised customers during the check out payment stage of the online ordering process. Simply highlight the option. If you wish to place an order using your club account we will require authorisation from club executives before anything will be invoiced and shipped. Once this transaction has cleared the GCCC system, your new credit account balance can be found at MY ACCOUNT > MY ORDERS > VIEW MY ACCOUNT STATEMENT
Having Trouble With Your Account?
The root of most www.cricketcentre.com.au club login issues revolve around email address. The main problem being that one email address cannot be used for both Individual and Club/School/Association login types. If your club didn't receive an email with your clubs login details it's most likely due it being already used for an individual www.cricketcentre.com.au account.
Option 1: Staff at the GCCC can edit the email on your Individual www.cricketcentre.com.au account and use this email for a newwww.cricketcentre.com.au club account.
Option 2: Create a new email account for your club, school and association (we recommend gmail.com) and contact the GCCC to let us know the new address. Within 48 hours your Club account will be created by the systems at the GCCC and you're good to go.
Lost your login?
No problem, first we recommend you search your email account for "club login" in both your inbox and spam folder. If you don't have any luck please give head office a call at 1800 HOWZAT (469 928) or email us on enquire@cricketcentre.com.au and we will get you what you need.
Need Some Help?
Give our friendly staff a call on 1800HOWZAT (469 928) and follow to prompts. Alternatively, email us on enquire@cricketcentre.com.au. Please make sure you have your clubs name and address handy because this will be needed for your account.
Got a Teamwear enquiry?
Please click here to fill out a Teamwear enqiry form and one of our Kit Crew will get back to you asap!
Enjoy those savings!